Here are Obama's current ratings according to the major polls. The names of the polls are clickable links.
ZOGBY
: Approval rating, 45%, with 51% of likely voters saying they disapprove of Obama's job performance.
Zogby Special Feature
Barack Obama - Job Performance Rating
PEW
: Approval rating at 51%
RASMUSSEN
: 31% of voters Strongly Approve, 39% Strongly Disapprove giving Obama a Presidential Approval Index of -8. 50% of voters disapprove of the job Obama is doing.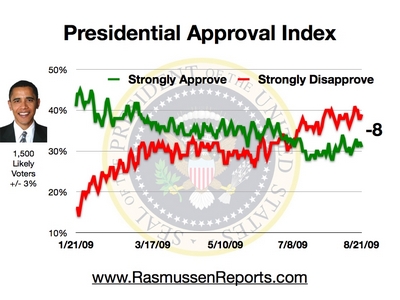 GALLUP
(as reported on NPR) and
GALLUP
: Approval rating of 51%
It seems Obama's approval rating just keeps on dropping. Much to this administration's and the liberal left's chagrin, Americans are continuing to inform themselves about what the Obama administration and the Democrats in Congress are doing.
And speaking of Congress . . . wanna guess what THEIR approval rating is? No where near Obama's . . . it's still about 31%.