This is unbelievable. This week, on May 5th (Cinco de Mayo), five
LIVE OAK HIGH SCHOOL
students in Morgan Hill, California wore t-shirts that had the American flag on them while many other students wore red, white, and green, the colors of the Mexican flag. The assistant principal, Miguel Rodriguez, approached the students while they were on break. Rodriguez instructed them to turn their shirts inside out so that the American flags would not be showing. That's right, so that the AMERICAN flags would not be showing. The students refused stating that would be disrespectful to the flag. So, Rodriguez took them to the principal's office where they were all suspended from school. According to one of the students, the reason given was that their t-shirts were "incendiary". Now, do you think for one minute that anyone wearing the Mexican flag or colors were instructed to do the same? Do you think that any student was sent home for wearing red, white, and green? No, not one. It was just the American flag that Live Oak High School considers to be "incendiary". And on top of that, these boys work American flag t-shirts frequently, not just this one time.
The one huge problem with this action is that there was nothing going on. There was no bullying, no fights, no sense of violence, no nothing. But, after the school decided to make an issue out of it, things have gone out of control. According to a Fox News
ARTICLE
, about 200 Hispanic students out of the 1,300 student school skipped class yesterday and marched to the school district's headquarters chanting, "We want respect." It seems there may have been some outside suggestions and or encouragement to these students to march. If you will notice in the Fox News post, a 2005 graduate said, "WE (caps mine) did this to support the Latino/Hispanic community." You have to ask why someone from outside of the school community would even be involved and consider themselves a part of it. "We" indeed.
Apparently there has been enough national outrage the Morgan Hill School District has placed a statement on their website as follows:
"The Morgan Hill Unified School District does not prohibit nor do we
discourage wearing patriotic clothing. The incident on May 5 at Live Oak
High School is extremely unfortunate. While campus safety is our primary
concern and administrators made decisions yesterday in an attempt to
ensure campus safety, students should not, and will not, be disciplined for
wearing patriotic clothing. This situation and our response are under
We know that this is an emotionally charged topic. We would ask you to
encourage your students to be safe and focus on their academics while in
school. If conversations and/or activities are necessary to express their
feelings on this issue, we will find appropriate venues that do not disturb
student learning or jeopardize the safety of our students. Furthermore, we
encourage everyone to demonstrate respect for each other, open
communication, and responsibility.
Thank you for your support and understanding."
Morgan Hill Unified School District
Well, it seems that this school has even more problems than students wearing American flag t-shirts. It seems this same school condones a having a club in their school called
M.E.Ch.A
. The translation of the acronym is Chicano Student Movement of Aztlan. This is a Mexican nationalist group that claims the entire Southwestern United States from Texas to California and as far north as Utah as their land (
SOURCE
).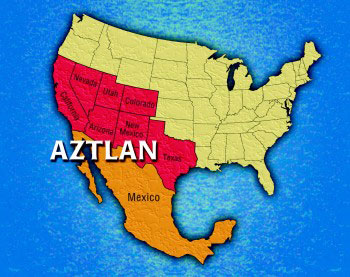 On their website, you will find this statement:
"
Essentially, we are a Chicana and Chicano student movement directly linked to Aztlán. As Chicanas and Chicanos of Aztlán, we are a nationalist movement of Indigenous Gente that lay claim to the land that is ours by birthright. As a nationalist movement we seek to free our people from the exploitation of an oppressive society that occupies our land. Thus, the principle of nationalism serves to preserve the cultural traditions of La Familia de La Raza and promotes our identity as a Chicana/Chicano Gente."
Keep in mind the school allows this "club" along with the other school clubs. Click
HERE
to see for yourself.
It would seem before the school refers to the American flag being "incendiary", they should look at just what they are sponsoring. Like Congress, whose members don't read most of the legislation on which they vote, Live Oak High School administration hasn't read MeCha's website. Or, maybe they have.